There are different type of roofing materials available in the indian market. In this post we are introducing some of the most popular roofing materials, their compositions and advantages and disadvantages of these materials. The popular roofing materials being traditional red clay tiles/teracotta tiles, ceramic tiles, cement / concrete tiles, shingles etc.
Traditional clay tile (Teracotta Tiles)

Red clay Tiles are natural and have been the most prominent roofing material since olden times. These tiles are made by burning moulded red clay at a high temperature in the furnace. The toughness and heat resistance makes clay tiles more favoured over shingles, material sheets and so forth. It also gives an antique look and style to the house.
But it has more disadvantages than any other materials. The important one being the failure of the red clay tiles to withstand the seasons. In places where the temperature changes or seasonal changes are frequent, the traditional tiles fails miserably. The tiles gets black shades and will lose its colour to dust, algea and other infections very easily.
Normally, the bright ruddy shade of the red clay blurs within 2-5 years because of the climate conditions. The thickness of red clay is more than the white clay, so more amount of red clay is expected to make the tiles of same strength. Because of this, red clay are ordinarily heavier than white clay and needs more stronger framework to support it. The water absorption of clay tiles are likewise high, since the base material is standard clay itself.
Heat resistant
Long life span than concrete tiles / roofing sheets
Composite of natural red clay
Effective covering area is about 0.75 sq. feet per tile
Less efficient in varying seasons
Vulnerable to algae, fungi and other infections
Absorbs more water and take more damage
More thicker and heavier
needs stronger frame work to hold
Colour life approximately about 2-3 years
Will need to clean or repair every 2-5 years
Some popular clay tile companies in india are commonwealth tiles and mangalore roof tiles.
Concrete Tiles / Cement tiles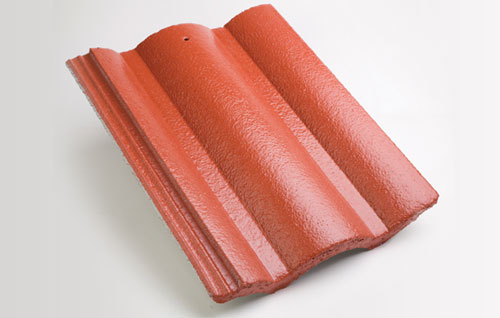 The amazing colour ranges of concrete tiles made it common for quite some times. They comes in different colours and profiles and was easily available as the manufacturing is easy. But they lost there market share and lost their reliability due to issues like their heavy weight, need for much heavy truss works, Water leakage and fading colours.
Be that as it may, they are as yet being sold in the market by a few traders and the colour selections pull in clients to these tiles. This tiles likewise includes more warmth inside the house, defeating the core principles rooftop tiles, since it is made of cement.
This will have similar properties of concrete and as exposed to rain and heat, the tile begins to deform. The colour will fade and since it absorb water and moisture, the algea and fungus are common story for them. The bad reputation and low reliability of this tiles has now forced them out of the market and the colour selection is the only attractive factor for this tiles.
These costs around Rs. 50 – 60 in india per piece.
Shingles

These are getting popular nowadays due to their attractive textures and easiness in installing on curved surfaces. They have a base material and ceramic stones/powder is coated in it. They have stylish textures and designs. These can be bent up to 180 degrees and looks good on curved surface. They give attractive and premium looks to the rooftop. The drawbacks are the heat issues and the fading looks. As asphalt is the base materials and the practice of sticking directly prevents the airflow, the hot air is trapped under the roof and it has to penetrate the concrete wall, asphalt gum and the shingles to go out. This increase the room temperature unless strong ventilation is provided. The shingles normally have premium powder coating / stone coating made by ceramic granules. But due to the climatic conditions in India, especially in the coastal states, they are prone to algae and fungus. The material itself is algae resistant, but the rough surface makes it easy for dust particles and other materials to settle down on the shingles surface, which in turn gets affected by algae or fungus. So, these material will look pale and old ( which can be cleaned by washing with a water gun ) in your rooftop. But these can stay premium for quite some time and can stay attractive as long as you maintain it by cleaning. Since these are a premium product, the customers using this tends to have periodic renovations or maintenance.
These costs around Rs. 100-150 based on their quality and colours.
White Clay Roof Tiles

These are becoming more and more popular everyday. The main advantages of white clay roof tiles are that they are baked at extremely high temperature (about 1200 degrees) and pressure (100 ton). They also add minute ceramic particles to increase the strength. They comes in several quality and the first quality brands like KPG ROOFINGS, have triple layer of colour coating. This ensures maximum colour permeability and gives 30 years colour guarantee for the products. They are weather resistant and repels water. This makes them safe from algae and fungus infection. The glass coating ensures that the colour gets maximum life.
Durability and have longer life than clay roof tiles
Prevents heat
Effective covering area of 1 sq. feet per tile
KPG tiles are water-proof, fire-proof, rust-proof and weather-proof, making it one of the most durable construction materials.
They can withstand any weather and their color does not fade away. KPG roof tiles even offer a 30 year warranty on the color. KPG roof tiles won't rust, fade, warp, disfigure or corrode.
Prevents algae and fungus
The base material used to manufacture KPG tiles are natural white clay.
Due to KPG tiles being extremely durable, maintenance costs ranges from zero to Zero.
KPG Branded tiles are lighter (2.2 kg) than traditional clay tiles (2.8 kg) and have much more density. This ensure the KPG roof tiles are more stronger and durable than clay roof tiles.
Load bearing capacity of 250 kgs
Visually Stunning and premium looks.
Available in 15+ colours.
The amazing looks also adds to the advantages of these rooftiles. There are many other brands also selling medium quality roof tiles . These type of branded tiles are highly preferred in indian market at the current scenario. Make up your mind and purchase from the experts when you are making the ultimate choice.