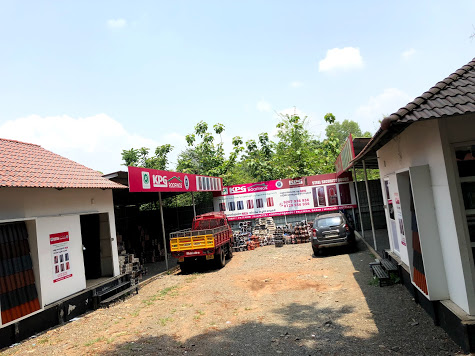 There are a lot of roof tile dealers in different districts in kerala, but yet malappuram is still one of the hottest market for roof tiles. Being the biggest district in kerala, Malappuram has one of the most number of constructions going on. The high literacy rate and financial stability assists the customers search throughly and to hand pick the best quality products. Most of the new trends and designs first plays in Malappuram.
When buying the roof tiles the important factor to consider is that you have to make sure that you buy from any certified showroom. Don't get fooled by buying from agents or labours, who would simply show you the first quality items and deliver you the lowest grade ceramic tiles.
Any vendor who don't have a reputation to maintain will simply try to take advantage of your ignorance in this field. Once laid, It is hard to distinguish the first quality tiles and low grade tiles on the rooftop from the ground level. The dealers who focus primarily on the agents and the workers will be only having low grade ceramic roof tiles.
So before purchasing, make sure to check the colour coating and clay quality of the tiles. You don't need to be highly trained for this purpose. The basic difference like the clay quality, finishing and colour coating is visible with naked eyes. Keep an eye on the vendor. It is always advised to directly buy from the official showrooms.
Leading suppliers like KPG ROOFINGS have showrooms in almost all the major cities and business points in kerala. so it is not hard to find the showrooms inside the malappuram district. KPG Roofings have showrooms where you can buy roof tiles in the following places in malappuram.
KAKKANCHERY
VALANCHERY
KODINGHI
MANJERI
PERINTHALMENNA
EDAVANNAPPARA
NILAMBUR
Buy from official roofing tile Showrooms
Here we are curating the list of 7 showrooms where you can get quality roof tiles for your home in malappuram district.
Now let us look at each of these showrooms. You can get more information about the tiles or location of the showroom by calling us at +91-9562-888-666.
KPG ROOFINGS KAKKANCHERY / PALLIKKAL

This is one of the oldest and first showroom of KPG Roofings. Initially located at pallikkal bazar, near calicut Airport and had been recently shifted to kakkanchery. But due to some issues in the last kerala floods, the godown is temporarily re-located to the old location in palllikkal bazar. This is one of the biggest showrooms of KPG and always have around 100,000+ pieces in the inventory. This roof tiles showroom is ideal for people from kondotty, vallikkunnu, chelari, ramanattukara, feroke, kadalundi, pulikkal, calicut university, kolappuram, devathiyal etc for buying their interested colours of roof tiles.

Map:

KPG ROOFINGS VALANCHERY


Yet another old showrooms of KPG ROOFINGS, KPG ROOFINGS VALANCHERY is located in kanhippura. The showroom is located on both sides of the highways and always have a stock of about 100,000+ pieces. This showroom controls the roof tiles markets in valanchery, kuttippuram, vettichira, kadambuzha, kumbidi, thennala, edappal, thrithala etc.
map:

KPG ROOFINGS KODINHI


This is a new showroom located in chemmad kodinhi. They have the capacity to stock about 40,000+ pieces and can arrange all the required service and roofing for you. This showroom primarily targets the area of kodinhi, chemmad, tirur, tanur, venniyur, parappanangadi etc.


KPG ROOFINGS MANJERI

This showroom is located at Irumbuzhi, between Malappuram town and manjeri, Making it easily accesible for customers from both the towns. This showroom has the capablity to store 60,000+ roof tiles and have a wide varitey of steel doors also in stock. This showroom service to the areas Malappuram, Manjeri, valluvamburam, mongam, othukkungal, panthaloor etc


KPG ROOFINGS PERINTHALMENNA

This showroom is located in perinthalmenna pattambi road and has the stocking capacity of 60000+ tiles. All the colours and models are available here and the service are extended to mankada, perinthalmenna, pattambi, shornur, pulamanthol, cherpulasherry, koppam etc.


KPG ROOFINGS EDAVANNAPPARA


This showroom is located in edavannappara and has the default stock of 50,000+ pcs everytime. This showroom extends the service to edavannappara, kondotty, vettuppara, omanoor, areacode, vazhakkad, cheekode, kodiyathur, kizhisheri etc.


KPG ROOFINGS NILAMBUR



This showroom is located near the famous Teak museam of Nilambur. This showroom has a stocking capacity of 70,000+ pieces and have the display of some of the most beautiful steel doors in stock. This showroom can provide service to you if you want to buy roof tiles from nilambur, edavanna, edakkara, wandoor, chunkathara, karulayi etc.