Of all the seasons, monsoon is the one that brings a loss of destruction and loss. Rains though very important are also a major player in the damage done to our homes.
In Kerala and more generally South India, we receive plentiful rain in the monsoon seasons starting from June. Too much rain can cause a lot of harm to our homes. This is why we should understand the importance and use of rainwater gutters. 
What is the damage caused by rain water ?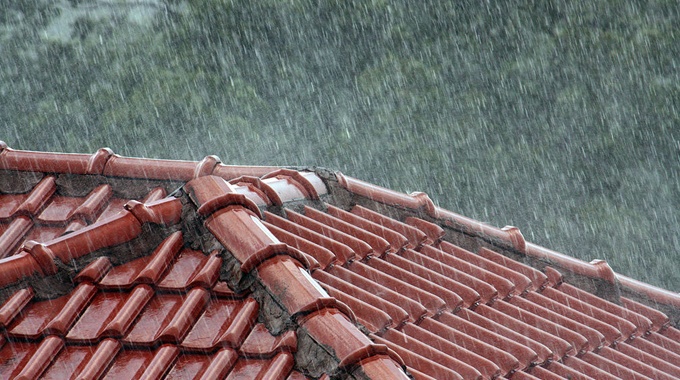 Rains in South India are often more similar to downpours than small showers. We receive approximately 3107 mm of rainfall annually, which is quite large compared to many other regions on earth.
Rainwater though life-giving and pure, also have a devastating toll on our houses and other buildings. Bad roofing can cause leakages and even lead to structural disintegrity.
Continuous downpours can lead to waterlogging on the roofs of homes, leading to even worse matters like water leakages inside our homes. Also, normal roofings often allow rainwater to flow along the walls and hence damage the walls and the paint job of your house.
It can also lead to soil erosion. Continuously falling water can also damage any tiles and interlocks used.  The rainwater collected on roofs can also cause algae to form on roofs. It can also help mosquitos lay eggs and spread thus creating health problems.
What is a rainwater gutter?
A rainwater gutter uses PVC pipes to create a way for water to flow. The water flows into them from your terrace or roofing tiles and flows through these pipes. Now they reach the potential downspout where they flow harmlessly away. These rainwater gutters are made up of lightweight but sturdy PVC pipes that can last a long time and help prevent damage to your homes.
How does rainwater gutter help?
The rainwater gutter often helps houses by steadily letting the water slowly down the pipes instead of getting collected on rooftops. It helps to avoid damage to your roofs to a great extend causing rot, disintegration, and molding of shingles, fascia, soffit, and masonry.
It prevents moisture from getting through windows, condensing and damaging sills and interior walls.
These systems, installed along the edges of roofs create passages for rainwater to flow along naturally from your rooftops, directing them down into your downspouts.
These are the vertical sections that take the water from your roofs and brings it to the ground level. Strong rains can create fast-falling water from rooftops which can sometimes even damage the foundation of your house over time.
What is the Price of Rain gutter?
The average price for Rain water gutters is around 185 – 200 /meter. This cost is for the rain gutter pipe only. There will be additional accessories like center drop, end caps, downspout, inner corner, outer corner, clamps etc.
What should I know before Installing?
Rainwater gutters are quite easy to install and easily go along with the different types of roofing solutions used in South India.
They are quite easy to install with bare minimum modifications to the existing infrastructure. The pipes used are made of the highest quality materials so they last long and look premium.
There are a few issues though with rainwater gutters. If you live in a place with lots of trees, there is a chance that the gutters may get filled up eventually by leaves and get blocked.
This may be a problem but one which has an easy solution. You just have to clean and verify your gutter twice or thrice a year.
If you do this you will be fine. Sometimes, gutters can be noisy if the gutters are blocked. So it is quite necessary that you clean your gutters often. 
What is the price of rainwater gutter in India?
The average price of UPVC rain water gutters in kerala is Rs. 190 per meter. The KPG roofing offers different types of rain gutters and this is an average price only. Rainwater gutters are very popular in india, especially in southern states like kerala and karnataka where the rainfall is higher.
When and where to buy Rain gutters?
Rainwater gutters are best bought and installed before the rains arrive and it's not too late. It can help keep your home safe and last long without any damage from rainwater.
One of the best options available for rainwater gutters in South India is KPG Rainwater gutters. We promise safety and style at a nominal price. If you have a higher budget, you may go to other premium brands like AEGIS.
Our rain gutters are made out of UPVC virgin material. We emphasize on high performance in durability and sustainability in safety factors.
It is lightweight, economical, and designed to ensure good flow with the best curb appeal. KPG gutters can help water from your rooftops flow easily down to the ground thus preventing clogging, mosquito swarms, moss, and algae from building up on your roofs and above all protect your roof from damage and loss of beauty.
Our rooftop rainwater gutter solutions are top-notch and provide you with the promise of safety, quality, and security.
This can be integrated to rain water harvesting tanks, which will ensure all the rain water that falls on your roof will be taken to these harvesting tanks without any loss.
This will also ensure the safety of the building, the under lying soil and also helps to fight against the water scarcity. 
You can contact us at +91-9562-888-666 for any enquiries about rainwater gutters or general about roofings.